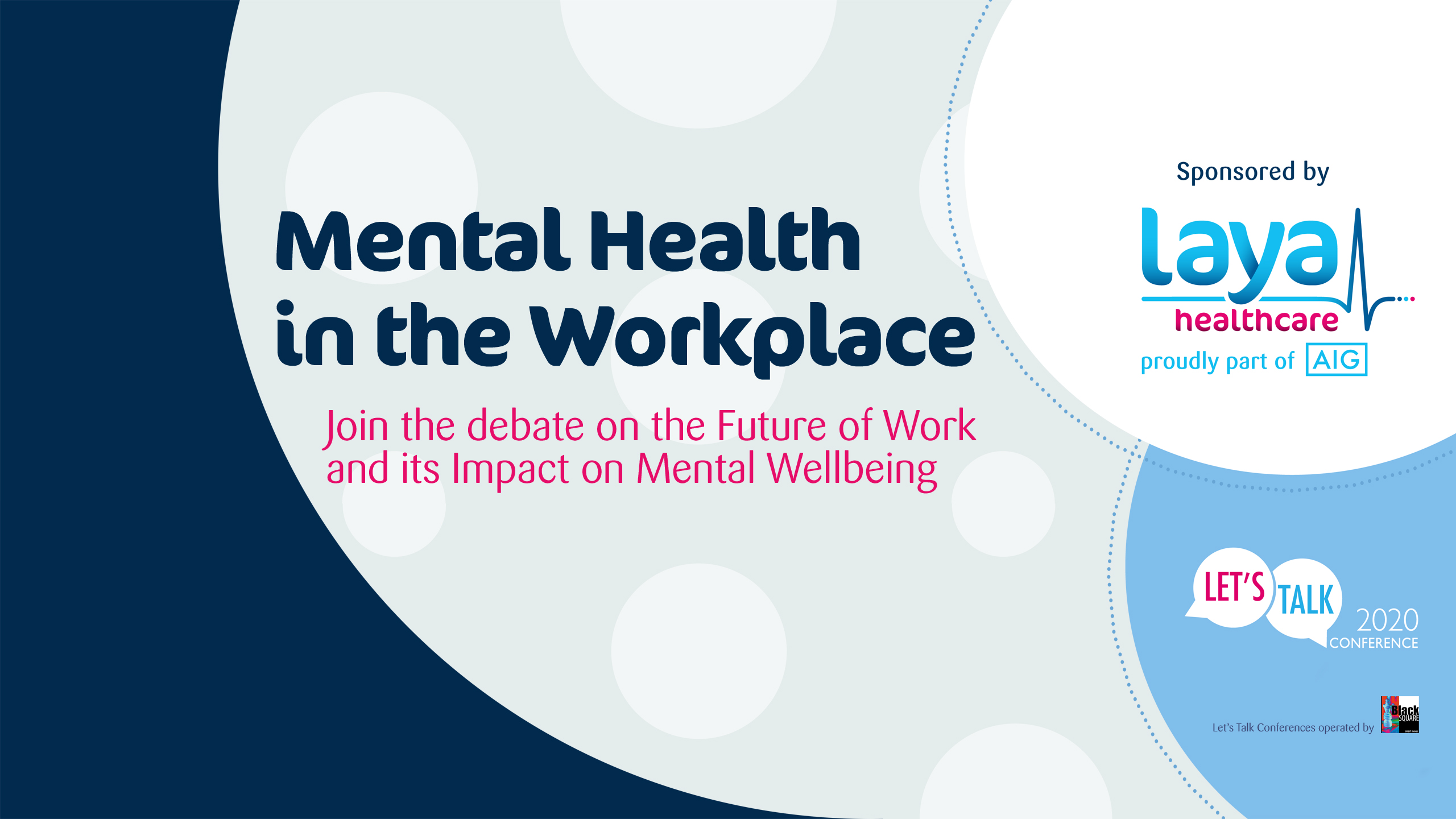 Let's Talk Mental Health in the Workplace – A must attend event for senior HR professionals and those concerned with Culture, Wellbeing, Resilience  & Engagement. The event is aimed at creating dialogue with senior professionals as they identify the supports and structures needed to improve their organisation's Mental Health strategy. This year there will be a special focus on the Future of Work and the impact changing work models – especially the recent move to remote working has on Workplace Mental Wellbeing.

The event will include a combination of presentations and panel discussions….with plenty of time allocated to interactive Q&A sessions. We will maximise the opportunity presented by the virtual event format and bring international speakers to our audience. This will be our most compelling agenda to date.
The event is split into morning and afternoon sessions, with separate tickets for both. If your business or income is affected by COVID-19, please attend as our guest. If you are in a position to purchase a ticket, 40% of fees collected will be donated to Pieta House.
Let's Talk Mental Health in the Workplace October 20th … A Virtual Event 

Morning session
9.30am – 9.40am  Introduction: Roisin Ingle, Journalist
9.50am – 10.20 am  Poppy Jaman OBE, CEO of the City Mental Health Alliance
10.30am – 11am  Panel Discussion "Future of Work and Its Impact on Mental Health"
Sinéad Proos, Head of Health & Wellbeing, Laya healthcare
Itziar Canamasas, Head of Oncology, Bayer
Giles Barrett, Chief Wellness Officer, AIB
Rowena Hennigan, Remote Working Expert and Lecturer

11am – 11.40  Lisa Finnegan, LinkedIn, Senior HR Director EMEA and LATAM, LinkedIn
11.45 – 12.30pm  Chris Flack, Co-Founder, UnPlug
Networking
Afternoon session
2.00pm –  2.20pm  Amy Kean, Author & Guest Lecturer gives a not to be missed address "Stick & COVID Stones"
2.30pm – 3pm  Cath Bishop, former Olympian, Ted Speaker
3pm – 3.30pm  Laya Healthcare Panel "Getting Under the Bonnet of the Anxious Norm"
Sinéad Proos, Head of Health & Wellbeing, Laya healthcare
Alison Hodgson, Vice President of People, Virgin Media
Dr. Greg Herbert, Clinical Director, Spectrum Mental Health

3.30pm – 4pm  Dr Ceppie Merry, Integrated Medicine Physician

Closing: Roisin Ingle 
Lets Talk Mental Health in the Workplace is organised in partnership with Laya healthcare. Our event in 2017 was the first initiative to bring senior HR professionals together with the express purpose of learning how to reduce stigma around mental health, improve awareness, enhance supports and learn from best practice in other organisations. By partnering with a leading health & wellbeing partner, we put on an event with even more insights from leading HR practitioners and mental health experts.