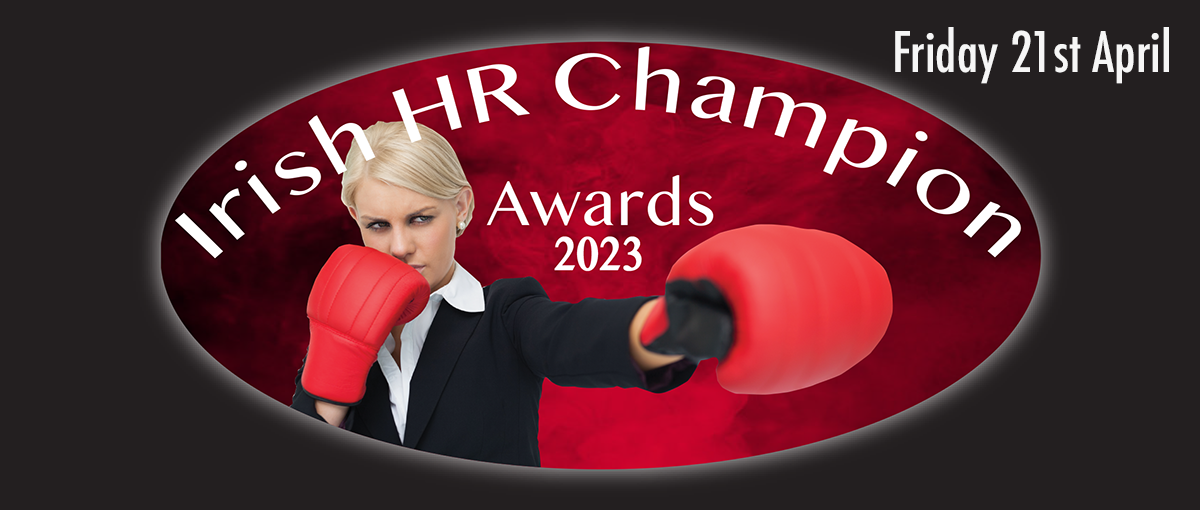 Irish HR Champion Awards celebrate the hard work and dedication of HR teams – operating at the front line, delivering ambitious programmes, impacting business performance and transforming employee experience. The Awards recognise the success, innovation and business focus of HR delivering the best strategies across: Employee Engagement – Talent Acquisition – Corporate Social Responsibility – Employer Branding – Change Management – Wellness Strategy – Learning and Development – Diversity – Leadership.
To get started :
1. Click on your chosen categories from our Category list
2. Complete the online forms for the categories you wish to enter
3. If shortlisted you will be invited to an interview
Closing date for entries for the 2023 Awards is COB, Tuesday 7th March.
CONGRATULATIONS TO ALL THE
2022 WINNERS….
CHAMPION EMPLOYEE ENGAGEMENT STRATEGY
Winner:  PREM Group
CHAMPION CHANGE MANAGEMENT PROGRAMME
Winner: FINEOS
CHAMPION WELLBEING STRATEGY
Joint Winner: Health Products Regulatory Authority
Joint Winner: TELUS International
CHAMPION LEARNING AND DEVELOPMENT PROGRAMME
Winner: Bank of Ireland
Judges Award
CHAMPION EARLY CAREER DEVELOPMENT STRATEGY
Winner: Kellogg
CHAMPION LEADERSHIP STRATEGY
Winner : Primeline Group
RISING STAR
Winner : Charlotte Doyle, Tuath Housing Association
CHAMPION TALENT ACQUISITION STRATEGY
Winner: Mater Private Network
CHAMPION EMPLOYER BRANDING STRATEGY
Winner: Retail In Motion
CHAMPION DIVERSITY, EQUITY & INCLUSION STRATEGY
Joint Winners: Vodafone Ireland
Joint Winner: Circle K
CHAMPION CSR STRATEGY
Winner: AppleGreen
BEST USE OF TECHNOLOGY IN HR
Joint Winner: Ireland East Hospital Group
Joint Winner: Ardmac
CULTURE CHANGE CHAMPION
Winner : Melissa Bosch, EY
OVERALL HR CHAMPION OF THE YEAR
Winner: Nikki Mullin,  Group HR Director, Primeline Group
CONGRATULATIONS TO ALL THE
2022 SHORTLISTEES…
CHAMPION EMPLOYEE ENGAGEMENT STRATEGY
Shortlistees
Esports Technologies
NCBI
PREM Group
Xerox
Zazzle
CHAMPION CHANGE MANAGEMENT PROGRAMME
Shortlistees
FINEOS
NCBI
Tuath Housing Association
Vodafone Ireland
CHAMPION WELLBEING STRATEGY
Shortlistees
Bank of Ireland
Fineos
HEAnet and EduCampus
Health Products Regulatory Authority
TELUS International
Trinity Biotech
Xerox
CHAMPION LEARNING AND DEVELOPMENT PROGRAMME
Shortlistees
AIB
Bank of Ireland
Circle K
HEAnet and EduCampus
Kellogg
LearnUP
LMC FM
Tuath Housing Association
CHAMPION LEADERSHIP STRATEGY
Shortlistees
Ardmac
FINEOS
Primeline Group
PREM Group
CHAMPION TALENT ACQUISITION STRATEGY
Shortlistees
Esports Technologies
Mater Private Hospital
Primeline Group
Retail In Motion
CHAMPION EMPLOYER BRANDING STRATEGY
Shortlistees
PREM Group
Retail In Motion
Verizon
CHAMPION DIVERSITY, EQUITY & INCLUSION STRATEGY
Shortlistees
Circle K
EY
FINEOS
Kellogg
Retail in Motion
Vodafone Ireland
CHAMPION CSR STRATEGY
Shortlistees
Ardmac
AppleGreen
DPD
Esports Technologies
Primeline Group
TELUS International
BEST USE OF TECHNOLOGY IN HR
Shortlistees
Ardmac
Eir
Ireland East Hospital Group
Primeline Group
LMC FM
OVERALL HR CHAMPION OF THE YEAR
Shortlist
Anne Marie Kennedy, Ireland East Hospital Group
Breda Donlon, FINEOS
Elizabeth Giltrap, Health Products Regulatory Authority
Julie Mernagh, Vodafone
Kathryn McBride, Mayer Private Hospital
Matt, TELUS International
Melissa Bosch, EY
Nikki Mullin, Primeline  Group
Sarah Marr, PREM Group
Sinead Collins, Kellogg
Stephanie Brady, Retail in Motion
Steve Morgan, Bank of Ireland
Rosie Begley, AppleGreen
Terry Keegan, Ardmac
Tony Kirwan Circle K
2022 IRISH HR CHAMPION AWARDS WINNERS…
Glam, Glitz and Networking at The 2022 Irish HR Champion Awards